2011 census microdata for scientific purposes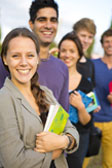 The research data centres of the Federal Statistical Office and the statistical offices of the Länder are going to make 2011 census microdata available for researcher's own analyses.
As a first step, microdata will be made available via on-site access, that is safe centre and remote execution. The homepage of the research data centres informs about the possibilities of data access. There, you can also sign up for an e-mail newsletter that informs about the provision of the microdata.