A detailed picture of the population: the results of the 2011 Census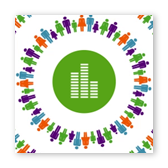 The census shows a multi-faceted picture of Germany
The purpose of the 2011 Census is to obtain structured and reliable information on the people's life, work and housing in Germany. The results of the 2011 Census are the basis for many plans and decisions in the political and administrative areas. The following results will be published:



Current population figures
Employment data
Education and training data
Information on the migrant background
Information on family and household relationships
Data on residential buildings and dwellings
A special feature of the census data – to the extent that they do not come from the household survey – is that they are available for small areas and, consequently, that they allow municipalities and the scientific community to perform a unique range of analyses. For example, individual residential areas or city centres can be shown and compared with suburbs on the basis of the results on the population, on households or of the census of buildings and housing. Especially for urban and regional planning, the census results open up manifold possibilities which are not provided by any other kind of statistics.
The results are available to everyone
The census results are available to everyone: politicians, authorities, businesses, scientists and the entire society. The publication of census results will focus on the evaluation database. In this database, users can easily select and individually compile the desired information from the wide range of census results. All they need is a computer with internet access.
With just a few mouse clicks, users can either access tables offered or compile new tables. Such tables will be available for download in various formats, so that they can be processed with user-specific software. To illustrate the figures, it will easily be possible in the database to produce individual charts and maps.
This allows everyone to use the broad range of census results to get their own idea of the population structure and the stock of buildings and dwellings in Germany and its cities and municipalities.